| | |
| --- | --- |
| Weather Fact: | The fastest speed a falling raindrop can hit you is 18mph. |
Getting the Most from ClimeMET - Interactive Weather Maps
ClimeMET is an interactive, intelligent weather monitoring system. It provides you with a wealth of information about the weather where you are, and combines this with learning resources for all Key Stages of the curriculum.
Log In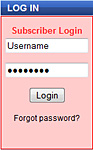 As a subscribed user, you'll get your own Username & Password.
These details provide you with a secure log in to the data at your site, plus the enhanced features of our Learning and Weather Data suite.
Once you're logged in, data from your onsite weather station, or your nominated local station will be downloaded into ClimeMET
Mapping Facilities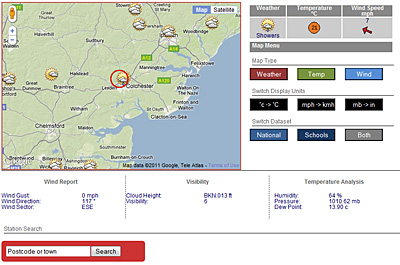 As soon as you log in, you'll be directed to the 'Current Weather'. This gives you a detailed snapshot of the weather conditions in your local area.
Interactive Elements
You can change the mapping display to view Wind Direction, Temperature or Weather Icons. Users can also choose to display data in a different format. Switch between °C or °F, MPH or Kpm and mb or inches.
Users can also zoom into a specific location, look at a wider view of the UK, and toggle between Satellite and Terrain views.
Station Search
ClimeMET has a 'Station Search' function. Enter a valid Postcode or Town Name, and the map and data will reset to display the relevant information for that area.
Local Weather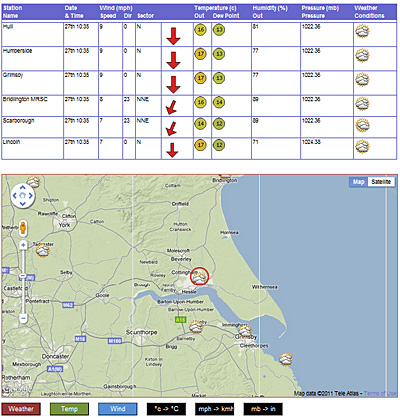 This map gives users a Data Summary and Interactive Weather map for the 6 Weather Stations in their local area. This is a fantastic way to better understand the diversity of a local climate, and to highlight key differences in the geography of an area, and the impact this has on its weather.
5 Day Forecast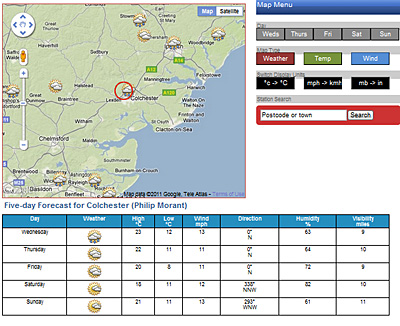 As well as current weather mapping, we've included a useful 5 Day Forecast. As with our other maps, it has some impressive user features. This map gives users a detailed synopsis of the predicted weather over the next 5 days.
The data includes traditional measurements of Temperature and Weather Conditions, but also includes Wind Speed & Direction, Humidity & Visibility.