| | |
| --- | --- |
| Weather Fact: | The average lifespan of a tornado is less than 15 minutes. |
Getting the most from ClimeMET – ClimeMET Learning Suite
ClimeMET is an interactive, intelligent weather monitoring system. It provides you with a wealth of information about the weather where you are, and combines this with learning resources for all Key Stages of the curriculum.
Interactive Topic Pages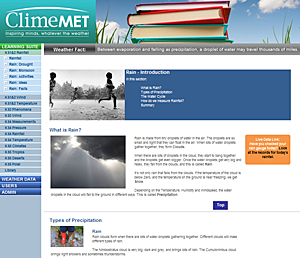 The ClimeMET Learning Suite is made up of a series of Topic Pages which help to define and describe elements of the weather.
The Learning Suite Topic Pages have been specifically developed to support learning at different curricular stages, therefore the presentation of information, depth of knowledge and approach are tailored to the individual Key Stages.
ClimeMET Topic Pages are also interactive.
The Learning Suite contains a series of interactive links which direct users to live Weather Data.
These links reinforce the principles being presented, and to bring a sense of real life weather into the classroom.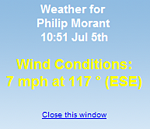 Topic Pages also include Facts & Statistics, Cross Curricular Learning Ideas and fun activities to enhance learning.
Lesson Plans and Activities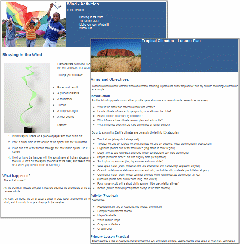 ClimeMET includes a collection of lesson plans and activities to engage your students, and help deliver the key theories and learning points for each Topic.
Like all of our learning material, Lesson Plans and Activities are designed specifically to meet the requirements of each key stage.
For younger learners, lesson plans are based around practical and creative experiments and activities while later key stages include class discussion and debate, team activities and individual study activities.
Ideas, Facts and Stats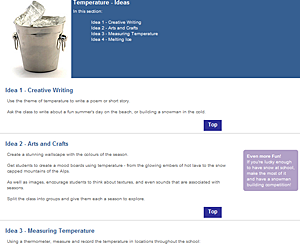 The ClimeMET Learning Suite includes lots of different ideas for taking learning further. We have developed a series of Cross Curricular ideas, including
Creative Writing Tasks
Art Projects
Science Experiments
Class Quizzes
Focussing on the earlier Key Stages, the Ideas within KS1&2 are designed to capture the imagination of young learners, and cater for differing learning styles.
All of the Learning Suite Topic Areas are accompanied by a series of Facts & Stats. From World Records to bizarre historical observations, the Facts & Stats section also includes study aids to give students bite sized information.